About Us
The JB Enterprise site is a small off-grid establishment in Saint Lawrence County located in Northern New York.
In 2004 the electric utility line was disconnected from the house and we haven't looked back since! 100% of our power is generated via solar, wind, alternative fuel and human power (truly renewable).
The Builder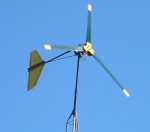 CrazyJerry is the creator of everything crazy at the site. In addition to hosting many Green Buildings OPEN House tours, he has also been a guest speaker at the:
Renewable Energy Fair (in Canton, NY previously at the High School and at SUNY Canton College of Technology.)
Local Living Festival (at Cornell Cooperative Extension Learning Farm.)
Various Educational Venues throughout the State.