Meet the "Urba Centurion"
128-mpg Diesel-Powered Sport-Coupe Car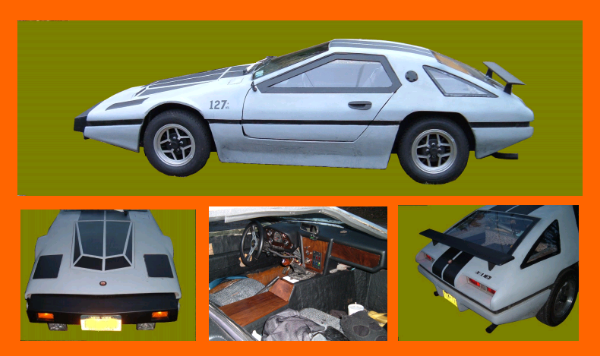 Disclaimer: I assume no liability for what you may see on this page. In the same way that some people should never have any sharp objects, I do not advocate or encourage doing anything shown on this page. With that said, proceed at your own risk and enjoy the show! = CrazyJerry

----------------------------------------------------------------




***Videos of CrazyJerry's Urba Centurion in action are at the bottom of the page***

Follow the discussion about this build at: Ecomodder Forum

Follow CrazyJerry's Centurion on facebook

Centurion Artwork Gallery
(Largest in the world and growing!)





Exclusive Footage: Centurion "drone" assisted video - from SUNY Canton on youtube!



-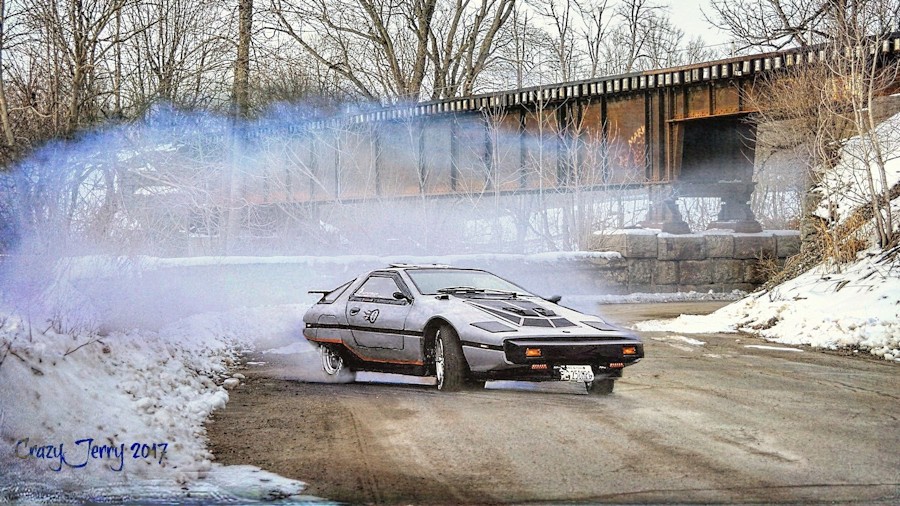 Artwork: Centurion gets a little out of shape at the 2017 Wintercross.
-

-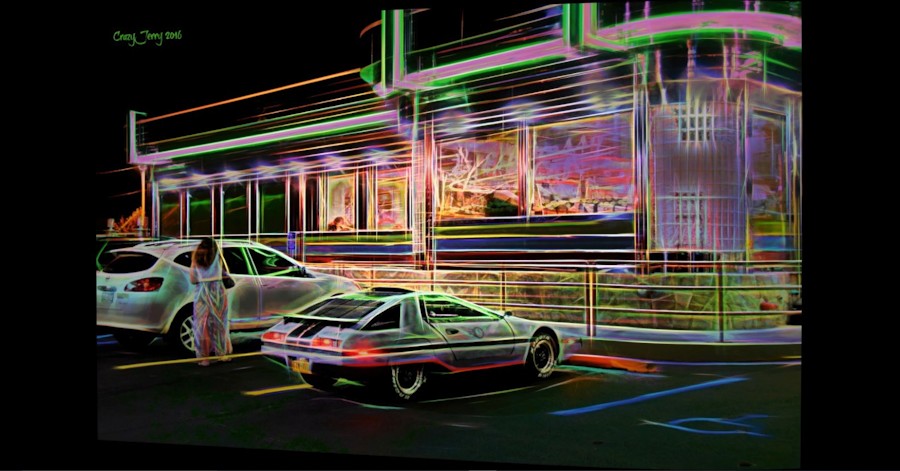 Photo above was a late night run in September 2016 from Colton, NY to Fishkill, NY for a Cruise-In at the I84 Diner.
-

-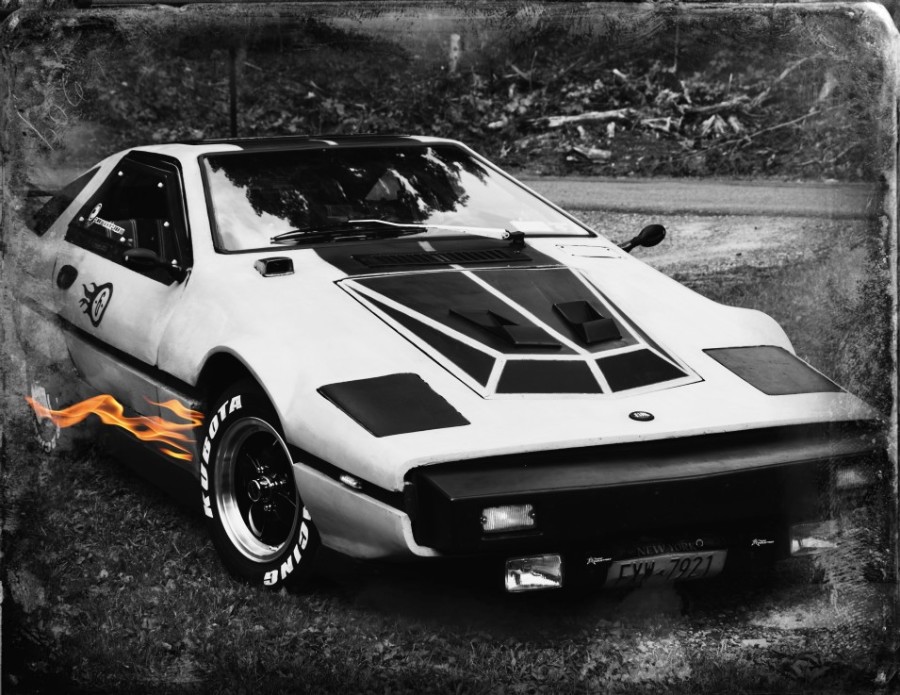 -

Summer 2016 - Centurion enters mega contest with the possibility of an epic journey:
Colton, New York to Monterey, California! (Story below photo):
-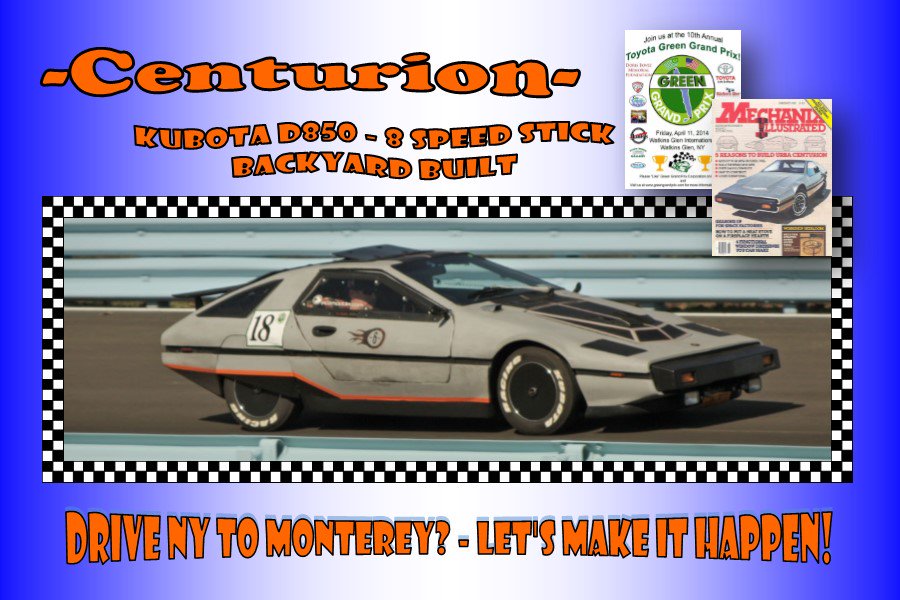 -
For those who have followed the story of this Centurion - it is good - like really good. But, it could be epic - Queen Mother Mary epic!
-
How?
-
Well, there is a contest happening from June-July 2016, and Centurion is now part of it. It's called "MeetJayContest", and it's a chance to meet Jay Leno in Monterey, CA at a huge car show at the end of August. The winner will be flown to California... If I could win, I'm proposing driving the distance to put a little American highway adventure back in the contest!
-
If this were to actually happen, the journey would get even better with cameos along the way on legendary Route 66 - "The Mother Road"! (There are Centurion and Green Grand Prix fans along the route!)
-
One of the biggest, most historic pitstops, would be in Phoenix, Arizona where Centurion's designer Robert Q. Riley resides. Imagine that reunion! Maybe I could get the Mechanix Illustrated magazine I bought 34 years ago - signed by Mr. Riley himself! (I'd love to have him sign the car too!!)
-
There's so many interesting angles to a story like this such as:
- Would the car make it across the US and back?
- How much fuel would it use on this epic journey?
- Can the glue-on "Kubota Racing" lettering on the tires survive?
These are just a few of questions inquiring minds want to know!
-
But it looks like winning may at least have something to do with popularity votes. Centurion has a lot of fans across the miles and if this is something you'd love to see happen as much as I would, give the little Centurion a like, share, or retweet from this Twitter link:
https://twitter.com/The_CrazyJerry/status/740951522419322880
-
This is an opportunity of a lifetime and a chance to put the north country back on the map... by driving across it..... behind the wheel of a 17 horsepower tractor engine!
-
Still think I'm crazy? - lol!
-
================================================
-
~CrazyJerry~
UPDATE: Didn't win the contest...The quest to drive out west continues...

Centurion competes in the 2016 Green Grand Prix on the Watkins Glen International Raceway!!
Back in 1982, could RQ Riley imagine that a backyard-build of his original Centurion would someday go on to break 200 mpg in a fuel economy competition? Well, in 2014, 2015 and 2016 that is exactly what happened. Robert Gillespie created this fuel economy competition called the "Green Grand Prix" and it's sponsored by Toyota, sanctioned by the SCCA, and held every year in beautiful Watkins Glen NY on the International Raceway.
-
Together, Team Centurion (Jerry Bartlett and Peter Cutler), skillfully piloted the little car to over 200 mpg each year.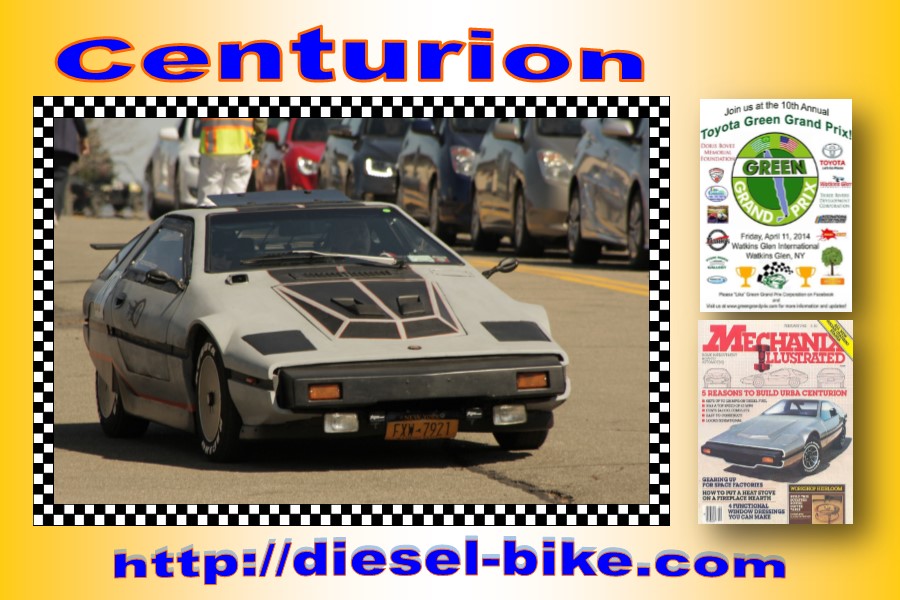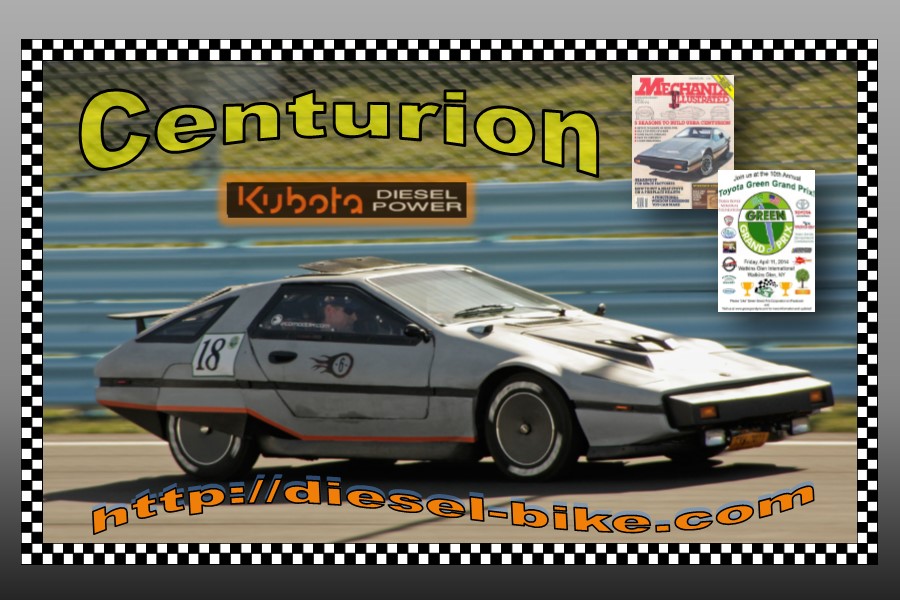 Centurion travels 244 miles to the Watkins Glen 2015 Grand Prix Festival and enters a "Stone Bridge Driver Event". In the Community Bank Concorso Speciale group, 2 laps (15 miles) on the "Old Course" were completed. Even though the little Kubota is rated at 17 horsepower, we had absolutely no problem "keeping up with the car ahead" (which was an Austin-Healy Bugeye Sprite). After the event, Centurion made it north to I-90 before needed a refill of her two-gallon tank. This summer's modifications are paying off so 2016 may be another stellar year!!



- Stone Bridge and Millikins Corner photos courtesy of: Steve Rossini / Highland Design Studio
- Centurion on display photo by photographer: Juha Cantori
- Old course map and banner images through the Grand Prix Festival for 2015
- In-car cam shots courtesy of Centurion!


Earlier in April 2015, We competed in the 11th Annual Green Grand Prix on the Watkins Glen International Raceway.
-
Centurion beat her last year's mpg record run of 214mpg with an outstanding 250.6mpg!
-
Official results by the Green Grand Prix Corporation are on the following results spreadsheet (see car #35 for Centurion): http://www.greengrandprix.com/images/2015spreadsheet.pdf



Click here to see Centurion on youtube in motion on the track




Registered for the:
2015 Toyota Green Grand Prix at Watkins Glen International (April 17th, 2015)

Tested this year for the 2015 Green Grand Prix, Centurion has a new injector pump, injectors, AND a newer Spitfire 4-speed transmission mated with the optional overdrive. The transmission swap enables the car to be truly "freeway capable" (70mph interstate cruise speed). New mpg figures will be determined at the 11th Annual 2015 Toyota Green Grand Prix at Watkins Glen International Raceway.

-- If you're in the area and wish to see Centurion please consider coming to the event.
-- If you want to have the time of your life AND compete in an eco-driving way, consider registering for the 2015 Toyota Green Grand Prix!






***Centurion registered and competed in the: 2014 Toyota Green Grand Prix at Watkins Glen International (April 11th, 2014) and it topped 200mpg!

For the story, see these press releases:

Colton resident hand builds a car that appeared in "Total Recall" to tie for the top award in a national competition.

SUNY Canton Online Staff Member Hits 200 mpg in Toyota Green Grand Prix

Colton man creates 200 mpg car

College Tech Analyst Builds 200 MPG Car in His Free Time


Start line - Winning lap shot - Winner's Check - More..

More to be added...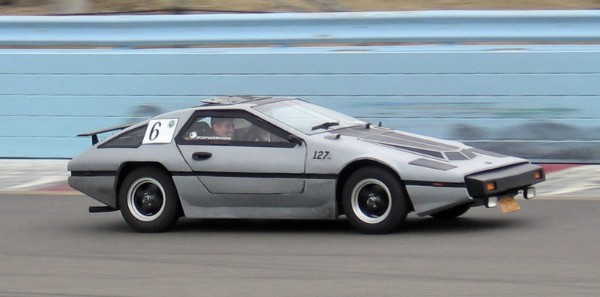 ...
...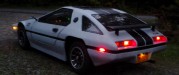 ----------------------------------------------------------------
The condensed history:
The February 1982 Mechanix Illustrated debuts the Urba Centurion. Back then, for a mere $17.95, you could buy information that outlined how to build the car. It was not a kit. The buyer of the plans would source the parts needed (new or used) and then build the body from scratch using fiberglass over a foam core.
Following the blueprints to include using a small Kubota diesel engine into the aerodynamic body, the finished project was advertised to deliver as much as 128-mpg! The plans by the original designer are still available today at: https://www.rqriley.com/cent.html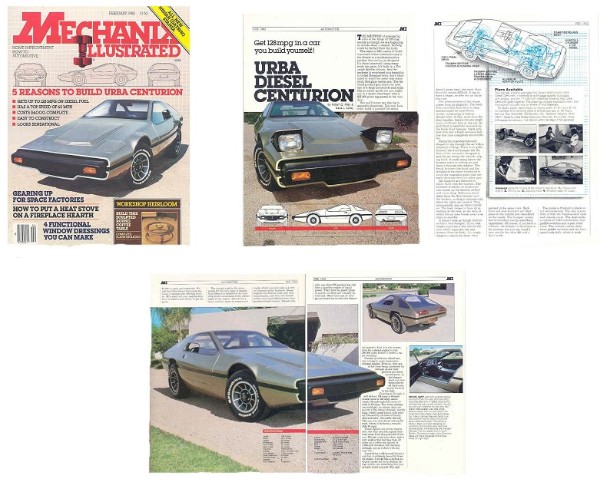 A little more info:
The Urba Centurion was not a completely anonymous car. If you have an eye for detail, you could catch a glimpse of it in the futuristic Arnold Schwarznegger movie "Total Recall" from 1990.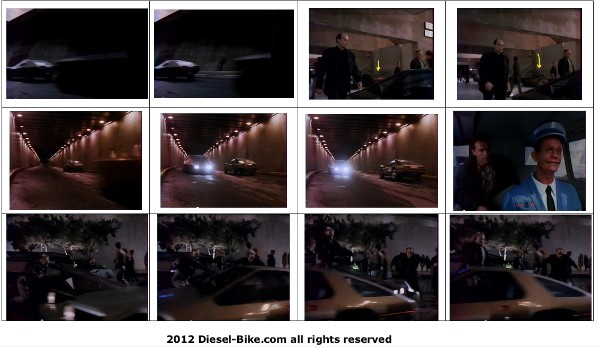 Are there any other Centurions? Yes!:
A fairly extensive search using the internet will show 2 such examples.

One variation exists in the Lane Motor Museum in Nashville Tenessee.

The other is seen here at CrazyJerry's diesel-bike.com website.
Below are the only Urba Centurions known to exist:
Photos below show original Centurion compared to current project:
CrazyJerry's Centurion compared to 2007 Hyundai Accent: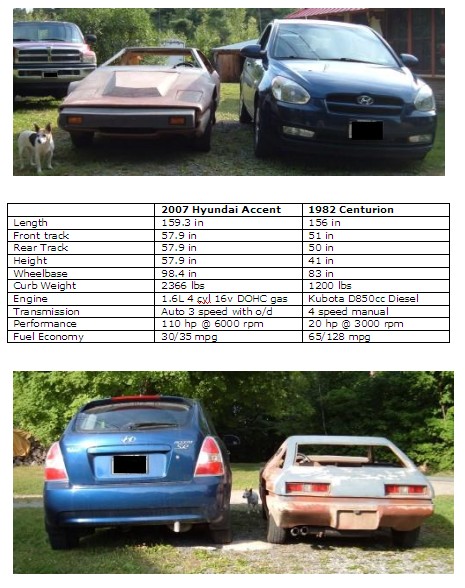 The Mill - Kubota 3 cylinder diesel: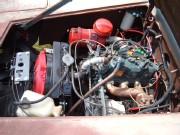 There is still more to do:
Gear changes to optimize mpg and speed.
Final cooling system tweaks and upgrades (Heater installed 2013. Radiator upgrade pending.)
Final engine alignment and driveline balance (completed - 10/2012)
Body work such as pinch flanges, fitment, and blocking for straightness.(ongoing)
Paint on hold. Kinda liking the primer rat-rod look!
Current mpg: 127!! (mixed town and rural driving). Exceeded Target of 115 mpg or more...To be continued....

----------------------------------------------------------------
And finally, a couple of videos:

(Shown above wearing 13" American Racing Spectre Wheels)

(Shown above wearing the original Centurion's 13" Carroll Shelby Scorpion CSI Wheels)
----------------------------------------------------------------
Changzuki Diesel motorcycle that's still pulling an average of 120 mpg!!
The Aurora Project - Lithium Rocket Trike!
A very nice off-grid 375 rpm Lister-style generator!
An 1800 rpm 12 horsepower Petter Style Generator!
The Commando - A Portable Battery Bank Tracked Charger!
Electro-Split - Very fast and very quiet Wood Splitter!
----------------------------------------------------------------
Return to off grid page